Each week, I write a brief, blogish devotion for the Young Adult Newsletter at FPC-Charlotte. I figured I might as well start posting them on here. That way there may be something interesting for folks to read…(Once again I will break protocol and backblog two other devotions).
---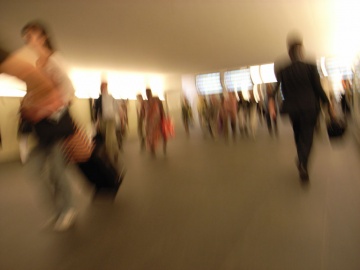 One of my favorite places to hang out right now is the Starbucks in Independence Square. Sitting right up by the window is an awesome opportunity to see people hustling. The speed and furry of Tryon Street could rival any race up at Lowe's.
Last Sunday, Dr. Miller made a fascinating point—nowhere in the gospel accounts do we hear about Jesus rejecting anyone. The consistent message is that Jesus was able to reach out, connect and care for the numerous people he met.
John 1:47-50 says:
"When Jesus saw Nathanael approaching, he said of him, 'Here is a true Israelite, in whom there is nothing false.'
'How do you know me?' Nathanael asked.
Jesus answered, "I saw you while you were still under the fig tree before Phillip called you."
Then Nathanael declared, "Rabbi, you are the Son of God; you are the King of Israel."
Jesus said, "You believe because I told you I saw you under the fig tree? You shall see greater things than that."
The encounter with Nathanael shows us that God has come to us, knows who we are and calls us along a great journey. We are not just a blurry face passing before Him, rather He deeply knows each of us.
Life can often feel as though we are nameless face hustling off to the next meeting, but it is my hope that as the church gathers for worship and fellowship, for study and service, you will not feel like a face in the crowd, but an intimate and integral part of Christ's body for Christ sees us before we see Him.
In Christ,
Wes Barry